>
Forums
>
General
>
General
> GNW
TOPIC: GNW

Standard User
Posts: 128

GNW
mangemani
26th Mar 2017 09:23:08
once again i need your advice.
im thinking of expanding my painting range in my next order, y ordering swedish GNW figs.
a typical carolean regiment had grenadiers on its flanks, musketers, and pikes in the middle and the officers and the flags infront.
now, heres the quesion, i see that you can order the musketers, pikemen and granadier in seperate packs and my first question is, how many regiments do you get with 1 pack of each one? my second question is, how do you mix them on the baseplates? do you put the grenadiers on a seperate one, musketers on a seperate and so on or do you mix for example musketers and pikes on thesame baseplate? and which baseplates do you recomend for this?
i hope you people understand what i mean with the mix part, im not so good at explaining things in english.

Standard User
Posts: 110

GNW
rsjahn
27th Mar 2017 08:19:52
Hi, maybe this one will help you:
One battalion of Dalregement, pikes in the middle, musketers left an right, and grenadiers on the flanks. Two drummers are behind the three rows of infantry.
The base is the usual Baccus 6x3cm
Ralf

Administrator
Posts: 383
GNW
peter
27th Mar 2017 10:47:43
I'll do my best with the questions for you:
While we do sell the musketeers and pikemen seperately, I do anticipate that they will be amalgamated into combined units for modelling Indelta battalions. (Recruited and garrison units wouldn't have pikes). Although I have seen this brought into doubt recently, the general opinion is that Swedish grenadiers retained their tricorne in action rather than a bonnet, so do not need special representation.
How you assemble them is all down to how you play your games. Ralf gives an example of a unit based for Polemos whereby the formation is all done on one base. Others prefer bigger units and will have seperately based musketeers and pikemen and bring them individual bases together to make the unit.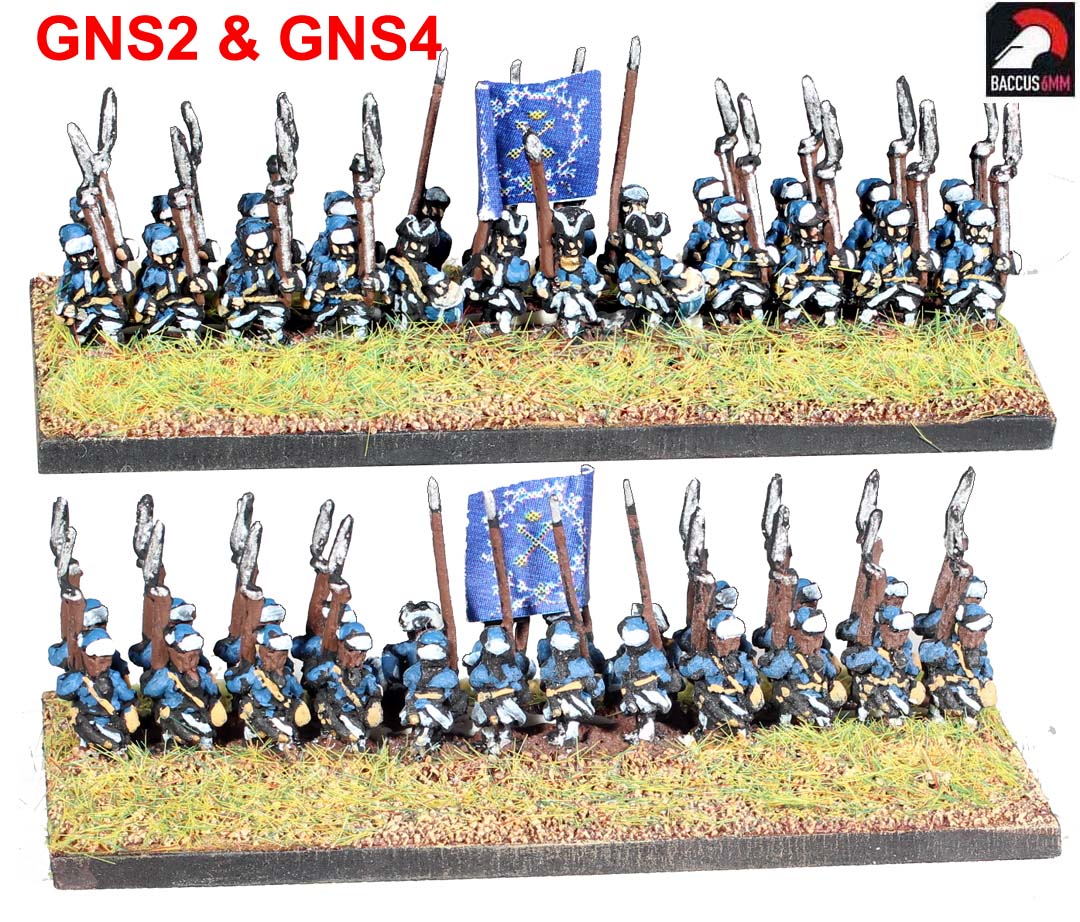 The way to start to answer your question really comes down to what you want to do in terms of rules, appearance and use. I would naturally suggest the Polemos rules and basing standards. It works well for 6mm and we organise all of our packs to meet that system.
- The Overlord

Standard User
Posts: 128

GNW
mangemani
27th Mar 2017 10:56:05
thank you guys for bringing light over my question:)

Standard User
Posts: 128

GNW
mangemani
11th May 2017 10:24:51
my nxt baccus order is coming up soon and i have a question.
im out to create lifesize regiments but cant seem to fins any info on the details of the swedish regiments. sure i find the uniforms, the size of them and so on, but no detailed info like how many musketeers, grenadiers, pikes and so on in eachregiment and if they had any cavalery/cannons attached to them.
my plan is to start with 1 regiment and then expand from there. so, in order to know how many wee men i should order, id like to know more about the regiments. lits start with dalregementet, how did the numbers look like? any good site that i can read about this? i need quick info, so no books please.

Standard User
Posts: 128

GNW
mangemani
12th May 2017 10:20:44
aha, now i got it. 6 companies(2 musketeers, 2 pikes and 2 grenadiers) with 150 men each, total 600 men formed 1 batalion. 1 regiment had 2 batalions, 1200 men strong. will be a hell of a lot of painting, but well well, i asked for it

Standard User
Posts: 99

GNW
Stenbock
12th May 2017 11:43:46
That sound like madness (in a positive way). Here are some links to some discussions about the battalion in battle. https://www.baccus6mm.com/forum/PaintingandModelling/ModellingandConversions/615-1-GNW/ . I would like to do a Swedish cavalry squadron in 1 to 1 in full attack one day. Good luck.
Stenbock / Per Broden
Check out my blog with some 6mm diversions - Roll a One
Mangemani: No I am afraid not. A regiment was usually 2 battalions of 600 men, but remember this was at full strength and so usually they actually had less men than this. A battalion had 4 companies of 150. Each comapny had a mixture of musketeers, pikemen and grenadiers but when a battalion was fighting the men did not stay in the companies but joined together to fight in groups. So a battalion would have 168 pikemen which were in a group in the centre. Either side of these would be a group of 168 musketeers (336 in total). The grenadiers were probably in two groups of 24 (48 in total) at either end on the line.
So in a battalion of 600 men - 336 musketeers, 168 pikemen, 48 grenadiers, 48 (or often more) officers, musicians, etc.
Also most Swedish grenadiers looked just like musketeers, as far as we know they did not wear special hats. Only a few units wore these hats that we know about.

Standard User
Posts: 128

GNW
mangemani
12th May 2017 01:35:08
aha, i see, thanks for clearing things up(and making my life/painting much easier:P)
i found my info on one of those paper sheets that comes along with prince agust caroleans molds, you get one in each mold you buy, and acording to that, a typical regiment consisted of 2 battalions, in each battalion there was 6 companies with 150 men in each company. 2 comapnies of musketeers, pikmen and grenadiers. alltogheter 1200 men strong. but thats just what prince august writes on those sheets, i have no clue:)

Standard User
Posts: 99

GNW
Stenbock
12th May 2017 02:07:29
There is a little piece on grenadiers and hats here. In Swedish.
Stenbock / Per Broden
Check out my blog with some 6mm diversions - Roll a One