>
Forums
>
General
>
General
> Samurai Army Pack Question
TOPIC: Samurai Army Pack Question

Standard User
Posts: 9

Samurai Army Pack Question
wakelessrex
20th Jul 2017 03:22:28
I just recently opened up the Samurai Army pack I got before the price hike and I have a question.
The pack description lists 1 "hero" unit that is included in the pack but I cant seem to find anything in the order that isnt part of the other samurai packs. Maybe mine wasnt shipped?
or can someone tell me what this model actually is XD
thank you

Administrator
Posts: 368
Samurai Army Pack Question
peter
20th Jul 2017 10:58:21
Here we run into one of the problems of doing army packs for a specific set of rules. This pack was designed for the Warmaster Ancients/Mediaeval rules and therefore uses those rules' terminology. A 'Hero' is a specific sort of leader with associated points cost for WMA. Other rules or systems may call it a 'Leader' or a 'General'. Either way, the strip in question is one from the SAM16 pack. Depending on which one you have got it may look a little like this: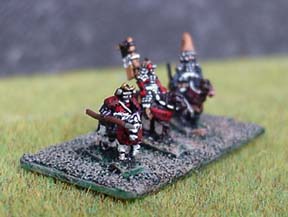 How's that?
- The Overlord

Standard User
Posts: 9

Samurai Army Pack Question
wakelessrex
23rd Jul 2017 03:18:50
Yes that answers my question, thank you :)