>
Forums
>
Painting and Modelling
>
Gallery
> Army of Attila - Huns
TOPIC: Army of Attila - Huns
Hey all,
Here's my third attempt at a DBA 3.0 army using Baccus 6mm. Attila's Huns. Hope you like it and suggestions are always welcome.
The whole army -
Hun Horse Archers -
Subject Warriors -
Attila and Bodyguard -
Goth and Gepid Nobles -
They all look very fine. My only comment is that some of the bases look a tiny bit bendy/warped - what are you using for the base material?
Thanks! Yes, J. Bickley made the same comment, suggesting I use thicker bases for handling and larger ones so I can get more figures on.
I'm currently using Litko's 0.5mm magnetic base bottoms (I was hoping it would make the bases vanish utterly). I will switch to something else once I finish this round.

Standard User
Posts: 184

Army of Attila - Huns
Glenn Pearce
21st Aug 2016 07:38:01
Hello MykeCole!
Great looking figures, well done.
If your considering rebasing you might want to take a very close look at the Baccus Polemos or "standard" basing that is very popluar with most of their customers. The 60mm x 30mm base is the perfect compromise for looks, playability, handling, rules and meeting other players, etc. It will also make your transition into other periods a no brainer, same bases, same storage requirements etc. One base for you entire 6mm collection. What could be better!
Hopes this helps you in some way.
Best regards,
Glenn
Nice looking army. I have done some DBA armies in 10mm using the 60x30 MDF bases, and using the 28mm DBA measurements and table size: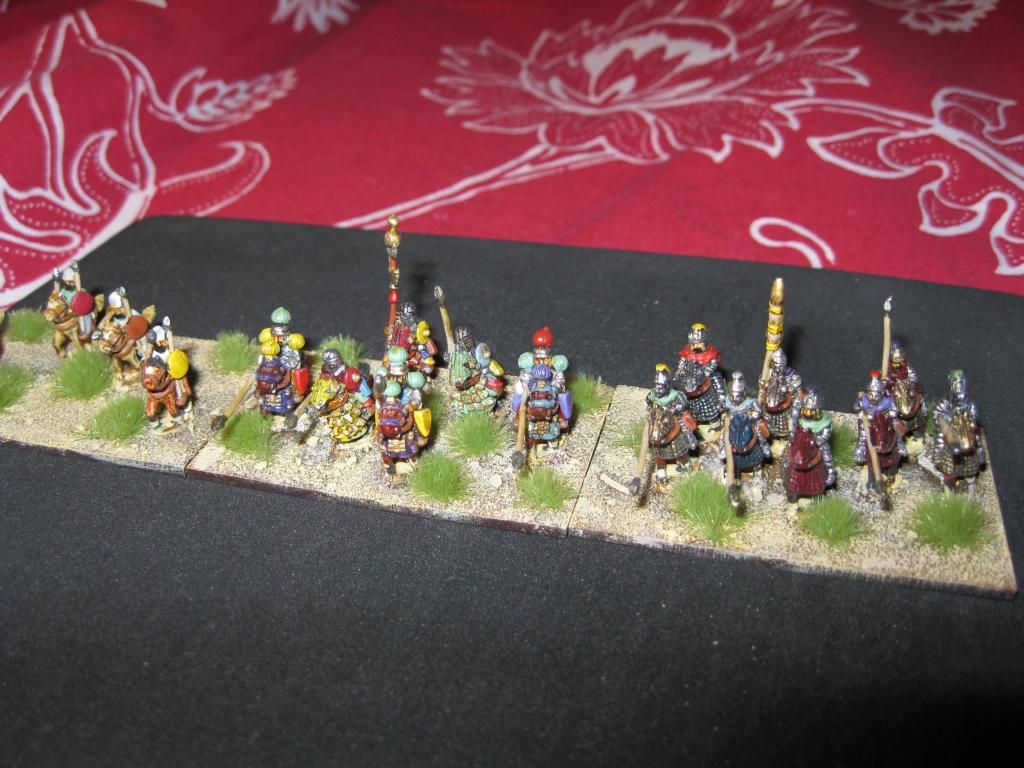 Wow, man. Those look amazing. I don't think I've ever seen that level of detail at 10mm. You've got one steady hand.
I will check out Polemos. Thanks!
Looking good, nicely painted! Perhaps you would want to represent a base of Hun horse archers using more than 3 figures. The big visual advantage of using 6mm over 15mm is that you can give the impression of larger forces by using many more figures.
I use bases made from 2mm MDF backed with magnetic sheet which I get from http://www.tinytintroops.co.uk
These are a good thickness, because you can pick up the bases without having to touch the models.
And they come in all possible sizes.
IMO thinner bases cause problems first by bending and then by damaging the figures when you pick them up.
I did the top of the bases using the Baccus basing kit and then painted the edges in the same colour as my playing area (green) in the hope that this would help make the bases "vanish".
I agree with the above statement that the depth of a sturdy MDF base is more than compensated for by the protection it gives the figures.