>
Forums
>
Painting and Modelling
>
Modelling and Conversions
> Basing
TOPIC: Basing

Standard User
Posts: 44

Basing
Fenton
26th Mar 2015 08:29:48
Hi Mr Grips

Standard User
Posts: 8

Basing
getagrip
28th Mar 2015 07:37:06
Hi Steve,
Keep popping up everywhere don't I?

Standard User
Posts: 31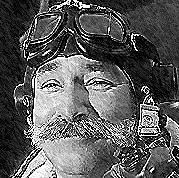 Basing
Wg Cdr Luddite
28th Mar 2015 08:16:58
Not a good idea to use neat PVA. Always thin it with water to apply basing medium. It should say this in the instructions.
Agreed. I have two small jars, one for basing glue, one for fixative. Basing glue is thinned a bit, about 2:1 glue to water. This lets me get good control with a brush, without it pulling back from edges too much. The second is fairly thin: 3:1 water to glue I'd say. Once the grit is down, washed and dry, I lock it all together with the washing glue. Then drybrush and grass.
Incidentally I sell a similar basing kit here in the US and I have found the PVA needs a full 24 hours to really and truly dry. So I just do a batch each night - one gets started (sand glued down), one gets a brown wash, one gets sealing glue, one gets finished.
Mark "Extra Crispy" Severin
ScaleCreep.com
DeepFriedHappyMice.com

Standard User
Posts: 8

Basing
getagrip
29th Mar 2015 07:27:37
Thanks for the tips guys.
Somewhat counter intuitive though and, I agree, should be clear in the instructions; several people on this and other forums have mentioned thinning the PVA.

Administrator
Posts: 352
Basing
peter
30th Mar 2015 07:55:19
The Wing Commander beat me to it. If you dilute the PVA (I take it to the consistency of milk), I think you will find that you'll get better results. The sand particles are very small and very light and can't get past the surface tension of the neat glue. Watering down lets the sand 'grip' the glue and gives the desired results. Trying not to labour the point, but if the glue supplied didn't work at all, none of the bases shown in the catalogue would have any covering and this forum would be wall to wall moans about the stuff!
As I said, we supply very good quality glue, hence the need to water it down slightly which also means it goes a lot further.
- The Overlord

Standard User
Posts: 114

Basing
Mollinary
30th Mar 2015 08:33:41
Well, you learn something new every day! Peter's explanation explains why my use of bigger sand particles for my 10mm figures works. I would NEVER have worked out that surface tension stuff requiring dilution of the glue. I had always assumed pure glue would be stickier than dilute - go figure! 😱
Mollinary
PS the return key still keeps sending me back to the start of the message!

Standard User
Posts: 8

Basing
getagrip
1st Apr 2015 09:50:42
Thanks Peter, works really well diluted. Just wonder why it doesn't say that in the instructions.
Cracking results though. :-)
Morning Mollinary!

Standard User
Posts: 114

Basing
Mollinary
1st Apr 2015 06:42:00
Wotcha GaG! Glad you took my advice! Now I know how to use it properly as well - good point about the instructions, by the way.
Mollinary
Here's a tip I use. PVA glue, then the sand, however I use a different wash technique. I use a thin wash of yellow ochre with some PVA glue mixed in to provide a binding agent. When thoroughly dry I then do a brown wash using the Fat Wally Magic Wash technique. After this I use the three layers of dry brush and then the static grass. This does add an extra couple of days to the drying process, but is worth it for the effectiveness.