'What are we going to do this time? How can we possibly do anything to cap Gettysburg Gallop?' I put these questions to Derek who looked into his glass, sighed heavily and shook his head slowly. 'I don't know,' he said, 'let's have another drink and try a few ideas out'.
We did both.
Nothing.
So we did more.
Then, the red gleam of madness began to seep from across the table.
'We could,', came the hesitant, yet ever so eager utterings, 'We could do the entire retreat of the Grande Armee in 1812!'
'Brilliant!' Was the first thought that filtered through my Rioja-clouded mind, but he wasn't finished yet. 'And we will do it on an even smaller game table than Gettysberg!'
Which all goes to prove that there is a wafer thin line dividing Genius, from Madness from Gibbering Drunk.
So The Baccus Reduced Great Battles of History offering for 2012 will be the destruction of the half million strong Grande Armee in the snows of the endless wastes of the Russian steppe all presented on a three two foot square boards in a game lasting an hour. Not bad eh?
1st October 2012
And it is here that the problems starts. Just as Napoleon had not considered that it gets a bit parky round the Moscow suburbs come the winter months, I'd underestimated the amount of time that the arrival of our son would take and before I knew it, I was left with one week to go and no game-boards made. In fact, at the time of writing all that exists of the game board is the following plan.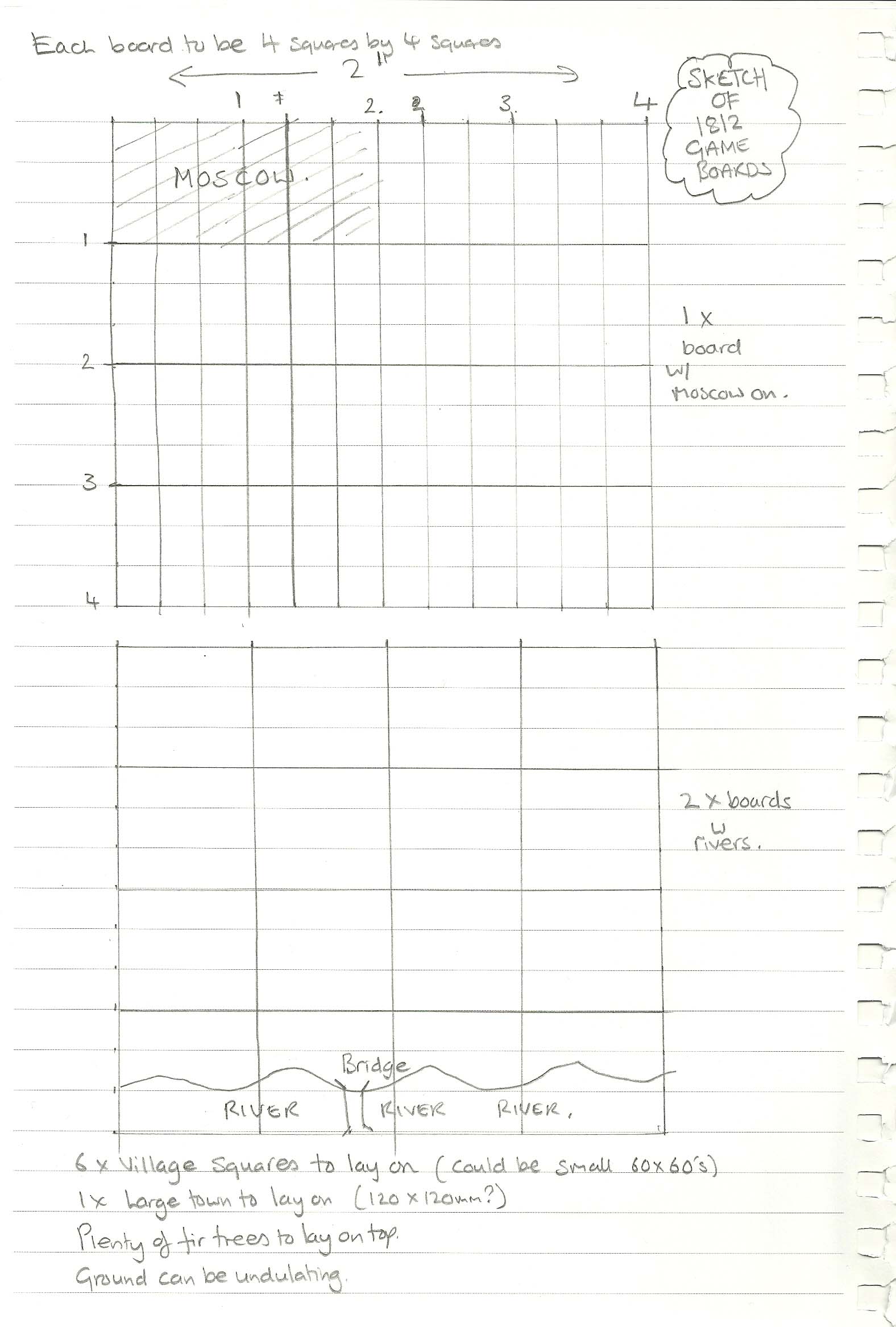 Will I get this done in time - I've got just four days to get this done, and here am I wasting time typing this drivel out. Right, I'm off to work and if I've got time I'll keep you posted...
Two days to go
First update - working at what can only be called a manic rate, the first stage was to assemble three two foot square boards using softwood battens and mdf. The terrain in this case is meant to be representative and is thus abstracted. In order to relieve what would otherwise be a featureless plain, we cut irregular shaped pieces of 4mm mdf. These were glued to the boards to try and give the appearance of a rolling scenery. The cruel amongst you may just say that it looks like bits of mdf glued to a board as opposed to the magnificent vista of the endless steppes. To these amongst you, may I just request a teensy, teensy bit of willing suspension of disbelief...
With the topography in place, the boards were marked into grids using masking tape.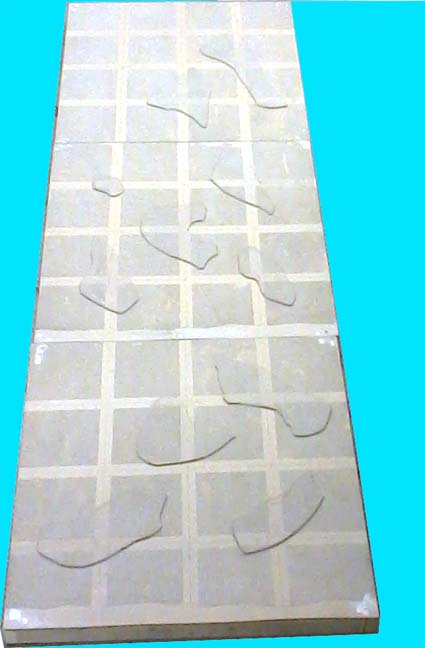 The whole thing was then covered in PVA glue and liberally sprinkled with sand and left to dry overnight. First day done!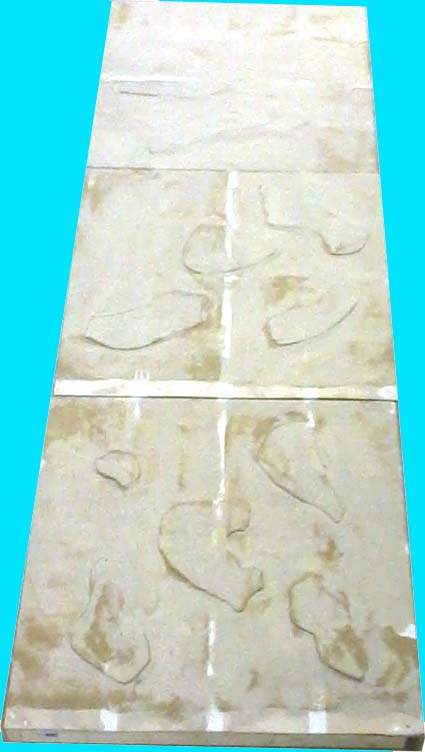 Once the glue had dried, the excess sand was removed and the masking tape lifted, leaving us with a nicely marked out set of boards. It was now time to add the paint. The rivers were painted with a lovely virulent blue that we had previously used on the Gettysberg build. It sort of grew on us...The rest got a good covering of a nice chocolate brown which will act as a key to the finishing coats. That at least is the theory...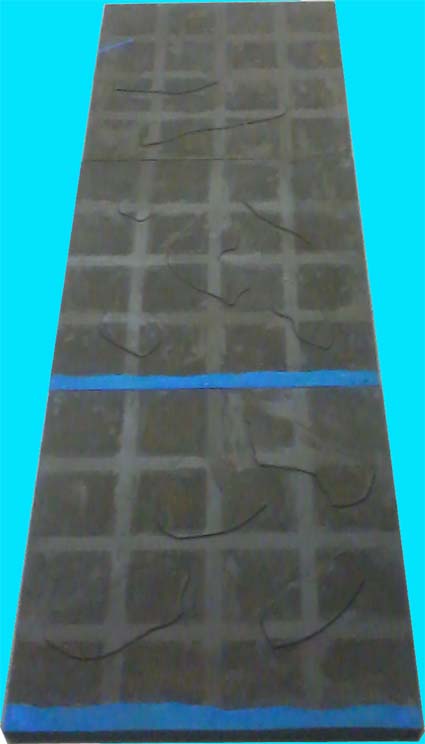 Running parallel to this the game require half a dozen small towns/villages on 60mm square bases and a representation of Moscow on a 150mm square base. As with the previous ACW game we turned to the excellent range of 2mm buildings from Irregular miniatures and these were glued down and the bases sanded, and then undercoated until we reached the following stage: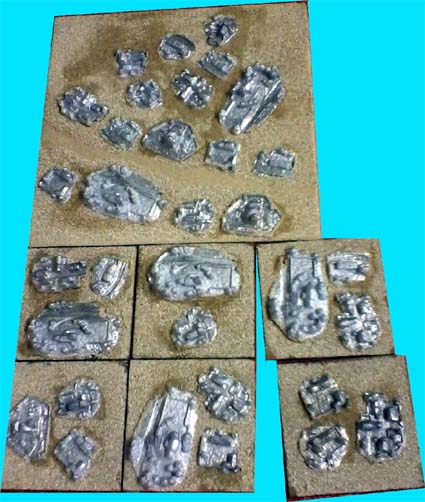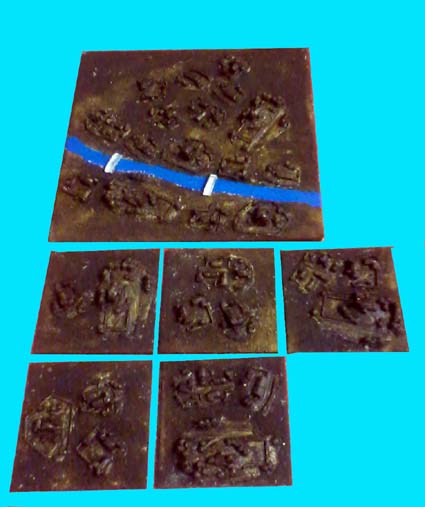 So far, so good. The problem is that we've yet to do the really difficult bit - drybrush and paint this lot up to look like a snowy, wintery terrain without it looking scrappy or producing a complete white-out. We've no idea how to do it, so as usual we'll have to make it up as we go along. More tomorrow...