Maidenhead and District Gamers
Denis Jackman writes
We are MADGamers – Maidenhead and District Gamers. We are a small club providing a friendly environment for wargaming within the Maidenhead area. We play a variety of games (Wargames, RPG's and much more) regularly. We also like to run games at shows.
Last year we ran a demonstration game for the "Fire and Fury" rule set on the American Civil war battle at Shiloh using Baccus 6mm figures. This was so well received that this year we are putting on a participation game using more Baccus 6mm figures (Zulus and British Imperial troops) based on Isandlwana. We are planning to start our run at the Battlegroup South show at Bovington Dorset on 5th-6th July 2008.
So here we are less then 4 weeks to go and as usual a last minute rush. Articles are being written, figures being painted and based, scenery being created. In the midst of this play testing continues. So a quick update on where we are.
We have completed another run of play testing which threw up some surprising results when 4 companies of British troops took on 3 Ubuthu of Zulus. The Zulus could not get close enough to do damage (superior firepower) which seems to me to be an interesting and accurate assessment of how it should run. More Ubuthu running against similar numbers of British Companies manage to get to close range and do damage. This is going to be an interesting game all round.
The figures look awesome, given the excellent range we have to work with, and also the high quality painters working on them they look "the business". I must admit I was a sceptic when 6mm was mentioned over a year ago for Shiloh but having seen the results and seeing the upcoming presentation for Zulu. I am looking forward to some more delving into the Baccus 6mm figure ranges.
Included here are some pictures from the painting session.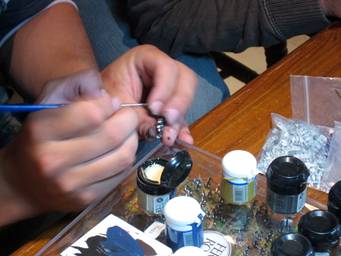 Here you see Dale French working on some Zulu's. There are more Photos but he works so fast his hands are a blur. An evening of painting, basing and talking through the game over a beer or two (or soft drink if like me you are driving) helps sort out all the wrinkles before the session itself.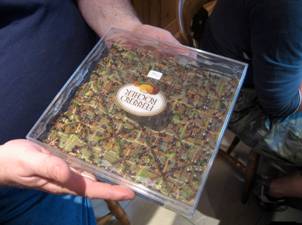 Here we see the figures in question in their carry case. Yes that is a "Ferrero Rocher" box – the sacrifices we have to make for our hobby.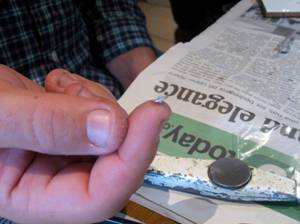 More sacrifices, this time Tony Baker glues a wagon wheel to his finger.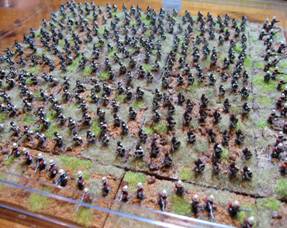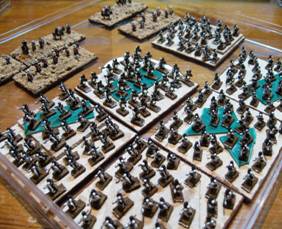 Here we have two views. One is of the finished models in their carry tray, and the other of similar models waiting to be based.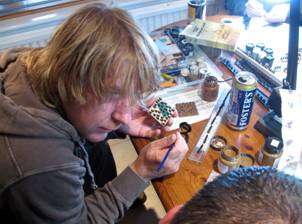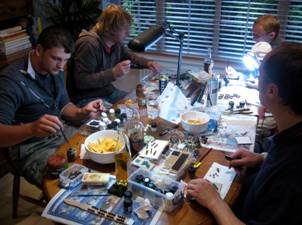 This is some of the team members in action on the "assembly line".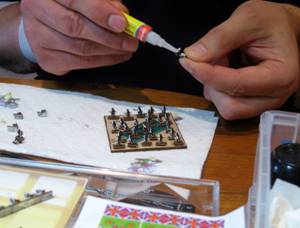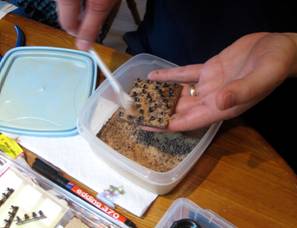 Here we have a better view of the basing process for the Zulus. The Zulus are painted and then glued to the base. Then a basing material is applied and sand/grit applied to the top of it. There is a finishing process for flock after this which gives you a great looking base for play.
In addition we have put together some supporting material (handouts, rule sets etc) and are in the process of finishing 3 sets of articles to support the game ("How the game was created", "Painting Zulu's" and a Background article). Watch this space.

For part 2 of this report, >>>Click Here>>>