Tommo's Tiny Troopers
24th January 2004
Meet Steve Thomas. Both as a member of Sheffield Wargames Society and of the English Civil War Society, Steve has had a long standing interest in wargaming the ECW. For the last two years he has been involved in a project that can be described as 'Visionary' - although I suspect that many would use other words...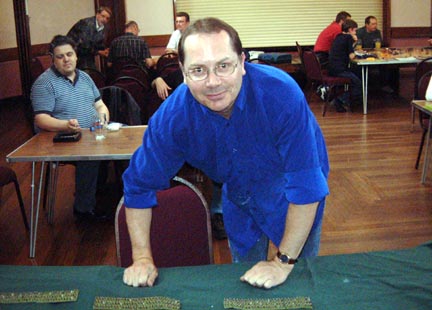 I think the best thing is to let Steve explain in his own words:
' Of all the many aspects of wargaming that attract different individuals to the hobby, one of my main interests over the years has been the aesthetics of any game that I get involved in. Painting the figures and creating the terrain is all part of the fun for me. Having played numerous games using 25mm figures and sets of rules with very short ground scales I always felt slightly uncomfortable with the end result. One answer to the problem is to use micro armies. Unfortunately though this addresses the question of ground scale you end up with figures that are so small you can't see them. '
I first saw the Baccus 6mm figs at "Triples" wargames convention. Peter Berry had some units on his display stand, all very well painted and based on a 1 to 3 ratio. These were impressive and gave a real sense of the scale of military units compared to the more usual 12 figure pike blocks. I asked Peter if these were full sized regiments and was told that they were only 1 to 3. My imagination started to kick in. A few days later without realizing what a mammoth task I was embarking on I bought my first infantry regiment using a 1fig to 1man ratio, approximately 800 figs. I suspect that Peter was very surprised when told him what I was going to do. On the other hand when I told Sarah my wife, she simply shrugged and walked off to the kitchen with a knowing shake of the head.'

'Surprised' does not begin to describe my own reaction!
Steve is now building two English Civil War armies on a figure scale of one figure = one man. This means that regiments of Foot will vary between 800 and 1000 figures, regiments of Horse 300 to 600. Both armies will contain over 10,000 individual figures! He is now in the final stages of this process, so I thought it was high time that he shared this remarkable enterprise with the rest of you.
These forces are functional wargames units and full-sized games are being played at Sheffield Wargames Society. He may only only have one and a half armies to use at the moment, but even divided into two sides for a game, these each stretch some 24 feet in length! Careful research has enabled the units to be based with proper intervals and company organization right down to the correct placing of drummers and NCOs.
Playing games with these kind of armies has presented a unique series of problems to solve. The end result has been that Steve has written a set of rules to play just to cater for this game. It is also an eye opener to those in the group who are used to the 12 man 25mm battalions. You can SEE why changing formations and wheeling presented such difficulties. It is also surprising to see just how short-ranged musketry really was.

This page will be updated as the project develops and we are trying to get some pictures posted that give a true impression of the spectacle. . The aim is to produce show quality terrain, and then for the whole lot to go on tour round the major UK conventions - that is those that can supply a big enough table!. At the time of writing, the game has been booked in to Sheffield Triples (April 3rd and 4th), Salute (April 24th), The Other Partizan (September 5th), and The World Championships (2nd and 3rd October). A couple of other shows have been approached and details will be posted when these are confirmed.
Sheffield Triples - 3rd and 4th April - The first outing...
As always with these things, the show arrived a week too early for all the things that needed to be done. Painting was being done into the early hours of Saturday morning. In fact one whole infantry regiment remained unfinished, so had to remain unfielded. As it happened, no-one really notice its absence. How many demonstration games can you think of where over 800 miniatures were left off and it didn't make a difference?
The game was staged on a 30 foot long table, which presented its own problems, not least of which was the difficulty of photographing it all! We are expecting a number of photographs from other sources to come in, but for the moment you'll have to make to do with these few: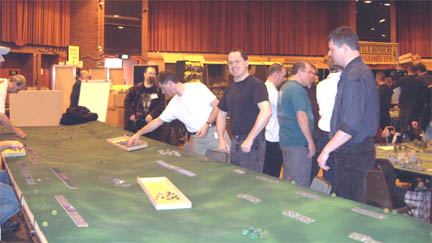 Members of Sheffield Wargames Society desperately trying to deploy 20,000 miniatures before the doors open. Steve Thomas taking centre stage and managing to pose for camera.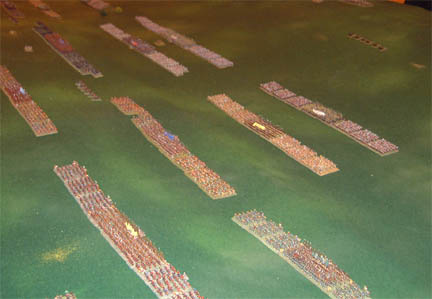 A view of the centre as the opposing Foot move towards engagement. Each of the larger formations contains over 1000 individual miniatures, and measures 50cm (20 inches) across its frontage.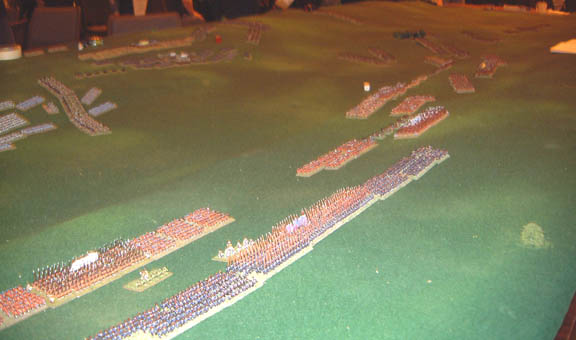 Later in the action, with the Royalists being pushed up the hill and in the background, some Horse attacking the rear formations in the flank.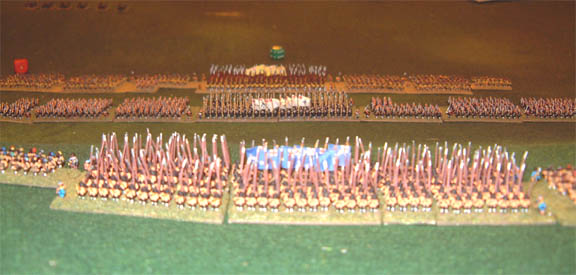 A spectacular view giving some idea of what is was like to face a formed ECW regiment. There are over 2500 figures in this one shot alone!
Playing on a 30 foot long table brings its own problems. Here we see a bemused Roundhead general trying to find out there his left flank Horse have got to,,,

.
The game proved very popular indeed, and one of the participants threatened to bring sunglasses on the second day to protect his eyes from the constant camera flashes.
With a project of this size there were inevitably some teething troubles, and it soon became obvious that more work was needed on the terrain features and a couple of other features. These have been noted, and will be sorted out by the next time the game is presented. If you missed the Sheffield premiere, try and catch this spectacular at is next appearance at Salute 2004.
Salute 24h April 2004
There is only one Salute, and six intrepid members of Sheffield Wargames Society traveled down the M1 to display the game there. Having learned from the first outing at Sheffield Triples there were two major changes made to the display. Firstly various people had been working feverishly on producing some extra terrain pieces. Fields, roads, farms and a village were all added to that table. Secondly, rather than play the game as a wargame the decision was made to move the figures to a pre-set plan every 15 minutes or so, spending the time in between talking to people and explaining the game.
Both changes worked very well indeed, and those people who had seen it at Sheffield commented on how much better the figures looked when set-off against the features. Certainly reaction from the spectators was brilliant, many of them not quite believing what they were seeing!
The following pictures are all courtesy of Andy Holmes of Enfield Wargames Group, as none of us had the presence of mind to bring a digital camera with us.
| | |
| --- | --- |
| | |
| A good view of the length of the 30 foottable, with the newly added enclosures in the foreground. | And a view from the other end of the table. |
| | |
| The Foot closing to contact with the Royalists attacking up the slope. | The same engagement from another angle. |
Clicking on the images will open up much larger versions - be warned they may take a while to load, but they are well worth the wait!
To round off what had been a first rate outing for the game, it was awarded the prize for the 'Most Impressive Troops'. A major achievement considering the quality of the other games being displayed.