>
Forums
>
General
>
BaccStarter
> FPW Starter Pack Contents
TOPIC: FPW Starter Pack Contents

Standard User
Posts: 27

FPW Starter Pack Contents
oppi
11th Feb 2016 10:17:07
Hi !
I am interested in collecting the Armies of 1870 from the FPW. So im only interested in the French Imperials, not in the Republicans. Does the starter pack come with Imperial or Republican Troops ?
Besides that, which bases are in the pack ?
Thank you
I assume you are talking about the boxed set as opposed to the army packs, where there is a choice of Imperial and Republican. Best to get Peter to answer for definite on the boxed set. I started with Imperial France, but found I couldn't resist then moving into the Republican phase of the war.

Standard User
Posts: 27

FPW Starter Pack Contents
oppi
11th Feb 2016 12:07:51
Thanks for the info. Do you like the FPW Rules ? Im a bit concerned it might play out too complicated with the additional modifiers compared to Napoleonics.
Also do i need more table space as with other systems, due to the increased ranges ?

Administrator
Posts: 383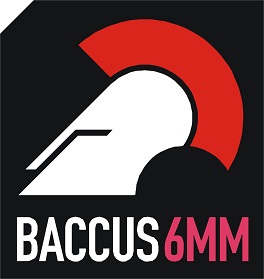 FPW Starter Pack Contents
peter
11th Feb 2016 08:53:51
The army supplied as standard is the Imperial French. Also supplied as standard are 60x30 bases. We sometimes get people wishing to use the Republicans or 60x60 bases. We can do this, but you'll have to contact us directly to arrange things rather than use the cart.
You'll find that the table size remains the same. Engagements can start at longer ranges but are typically decided at close quarters.
- The Overlord

Standard User
Posts: 27

FPW Starter Pack Contents
oppi
12th Feb 2016 02:41:03
Thanks Peter !
Republicans will be a project in the future :) So far im more interested in the Imperial Troops.
I really need a bigger table... Downsizing every move / range isnt really to appealing
Cheers
I have found Bloody Big Battles to be my rules of choice for the FPW, after having tried out 1870, Polemos, They Died for Glory etc. Like many good rule sets these days they are supported on the web through a Yahoo group page. The BBB rulebook contains 9 scenarios from the FPW. The maps in the rulebook are b/w, but there are free colour versions on the BBB yahoo page. Furthermore there are another half dozen or so free FPW scenarios, formatted exactly like those in the rulebook. Units are built of one inch squares. Most units represent a division or a brigade, depending on the size of battle, and vary between one base for artillery to between two and seven for infantry. I have had some of the most enjoyable games in 50 years of wargaming with these rules. Here's a couple of shots of a game of the battle of Spicheren which I ran in my local club.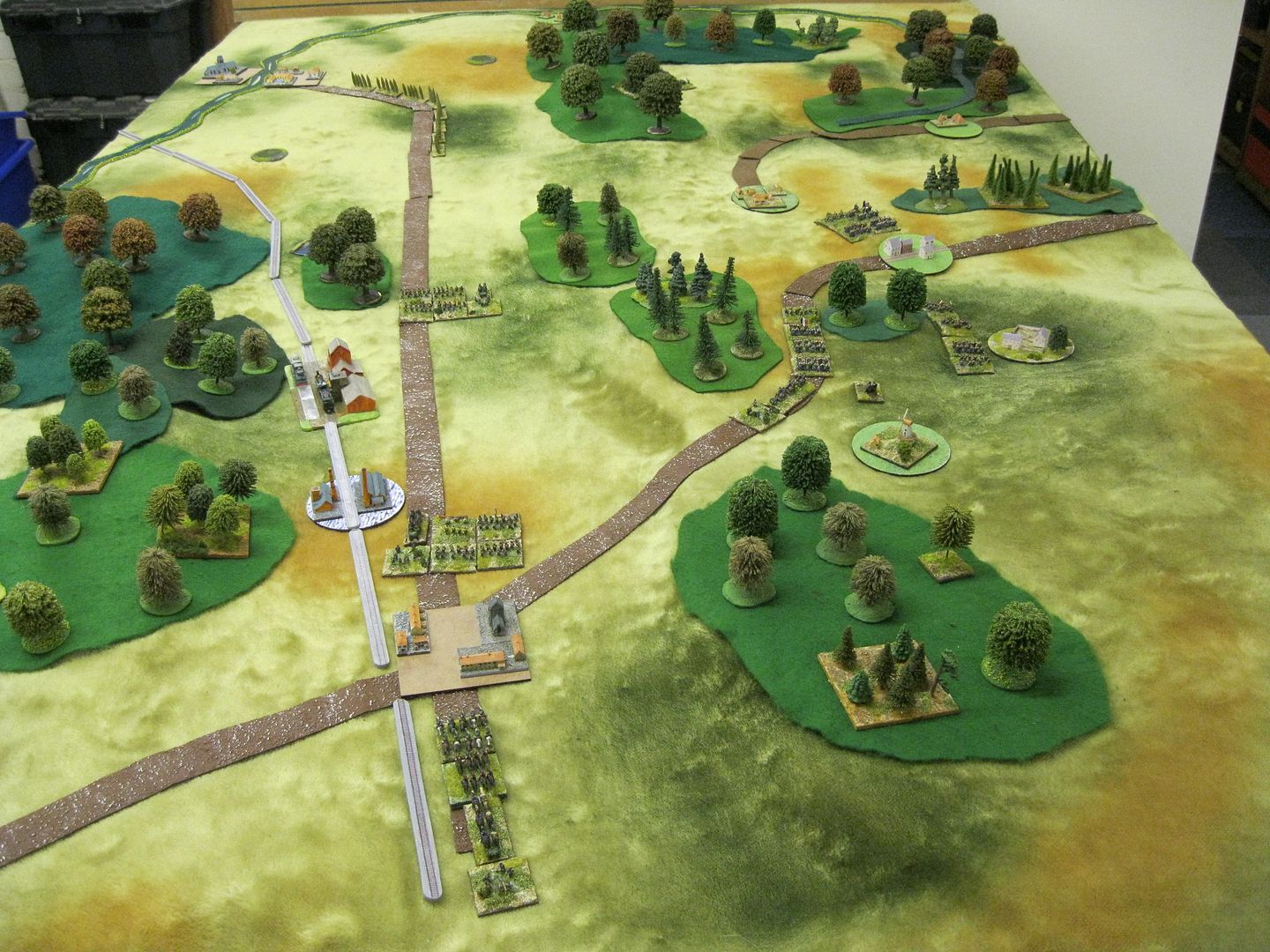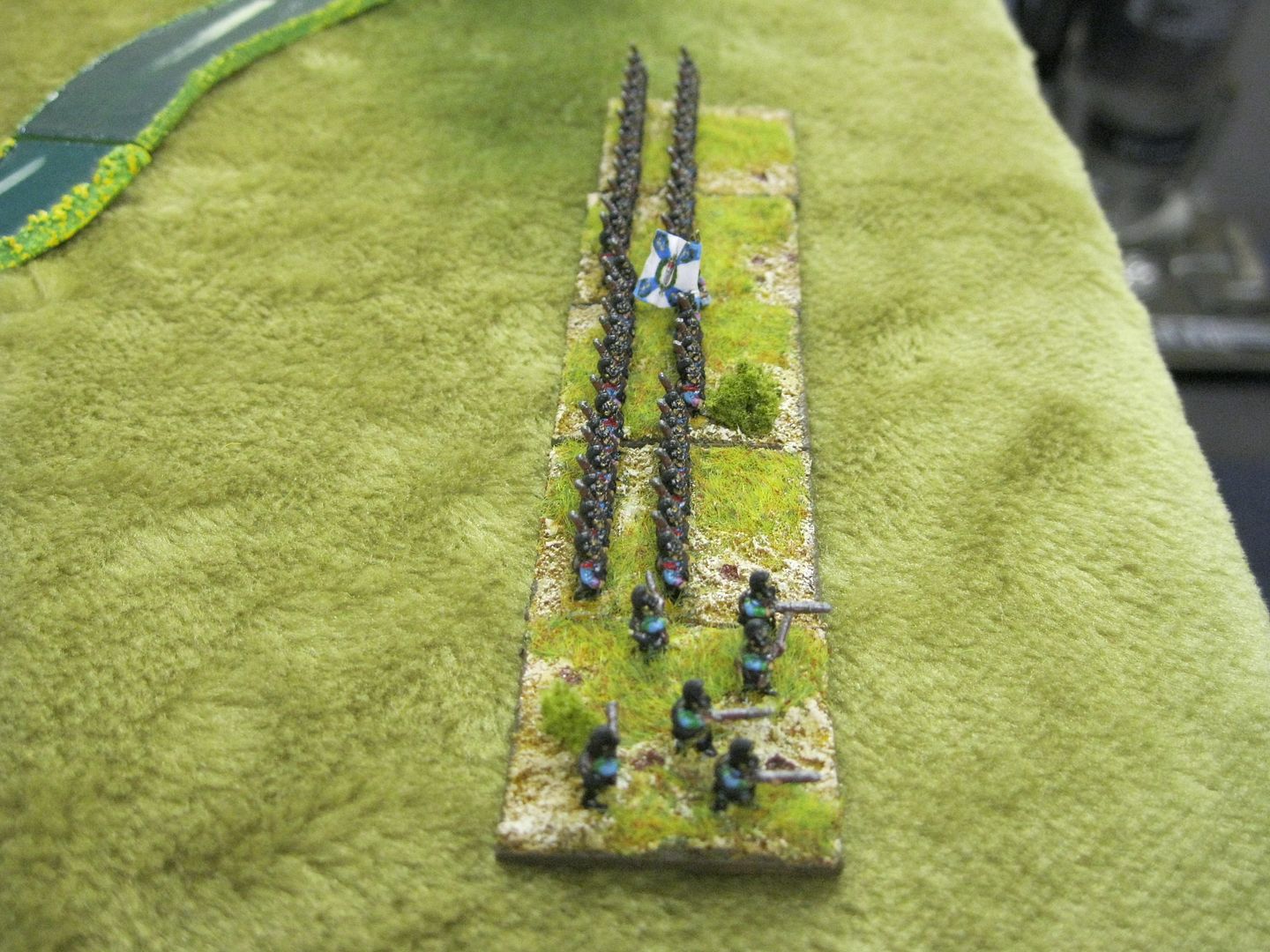 Standard User
Posts: 28

FPW Starter Pack Contents
adam west
23rd Feb 2016 05:12:35
apologies for derailing the thread but is that a gaming mat your using dourpuritan?